---
Topic: Infrared interface for PC
Updated: 01.04.2004

Home

Menu

Diese Seite in Deutsch


At the beginning I operates at home with that provided serial cable (RS232: Sub-D9pol.female - PCMCIA I/O plug).
Since I wanted to operate also quite fast on the workstation with the PSION, the problem placed itself, where one gets a second cable.
Search in the Internet resulted that such cables are available for under 30Euro in trade (e.g. with

www.abyte.de). Then I had in addition, the possibility of the infrared link discovers.
On Dschen Reineckes

infrared port homepage I found a instructionmanual for it.
As I constructed my infrared port you can read it down.



All information which I had for the reproduction of the infrared port, has I from Dschen Reineckes homepage to the IrDA port (www.infrarotport.de) inferred.
In addition firstonce thank-beautifully at Dschen.



I copied the circuit, which offers the highest reliability:


Also I used shielded cable, because my PC is under the desk and I needed about 1,5 meters of cables.



The building block TFDS4500 cost at a electronics dealer 6,40Euro and is much filigree a piece in SMD technique.
Around from the PC to come out I used a slot-patition for Sub d 9pol. and 25pol..
In the slot-partition I built a Sub d 9pol. female, so that no danger of mistake with the serial interfaces can arise.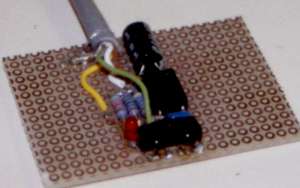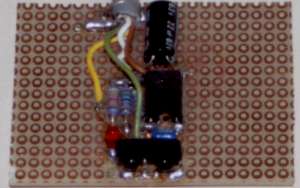 The Resistor in front of the sending-Ir-Diode could be warm.
The LED could be flash while sending. On my Board the LED donsīt work. I think it is an fault.



The circuit fits on a hole circuit board of the quantity 1,5cm * 4,0cm. To watch out one must however with the TFDS4500 and its assembly raster!. The Pitch amounts to 1,27mm. This means a fate little relating to crafts to equip this building block on a hole raster circuit board! I recommend to buy the finished circuit board of

Dschen to the layman.



On the Main board (a ASUS K7V) the IrDA port is wired according to the following picture: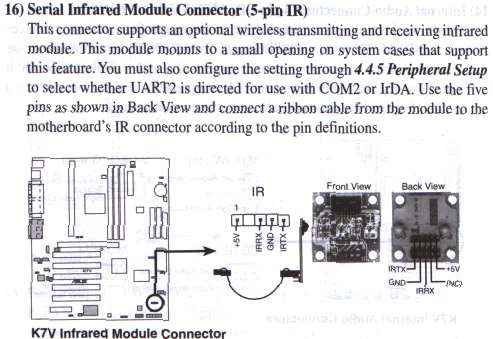 The installation is simple also for laymen!



Followed by the structure the hardware, it is now to integrate into the Windows software.
In addition the IrDA port must become " Enabled " in the BIOS Setup.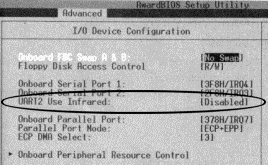 Subsequently, that takes place boots from Windows (with me the WIN98SE).
In addition one must keep the installation CD ready, since Win98 finds a new device and must reload the appropriate drivers.
After the installation the "infrared monitor" announces two devices, which I had put before the infrared port: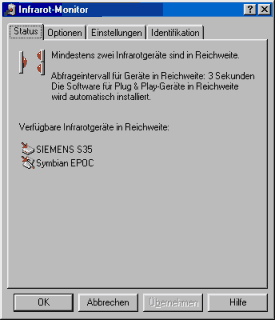 For the communication between PSIWIN and PSION you need PSIWIN-Version 2.3. This is needed while the older versions of PSIWIN are not supported the infrared-network.

With me then fast an error occurred: "error 45 occurred". No notion why. Property then all drivers deinstalliert (note: Win98 installs the IrDA port as network device!).
After a new installation it ran then. One must click however with the "PSION workstation" me the right mouse button and set the communication
channel to "infrared"!
Data communication between PSION5mxPRO and the PsiWIN ran problem-free.


on top


Copyrights © 2001-2023 by psion.GENSICKE-ONLINE.de
I detect all copyrights and registered trade marks specified here on!