---
Thema: Hinweise zu InSyncPRO
Aktualisiert: 04.01.2003

Home

Menu

Diese Seite in Deutsch


If the Syncronisation does not run is the annoying. Particularly since in these cases also still fast an alignment must be made, since one must urgently e.g. on official travel.

I had the problem that from one day on the other one the agenda Sync with an error message broke off: "with the Syncronisation an error arose."

By this more or less suitable error message one stands quite for helpless.
A new installation of the Syncronisation brought just as few, as the new installation of InSync to PRO.

After some weeks, I have grind and experiment on the manufacturer web page of InSync PRO "time information services" under "http://www.timeis.com" a posting inquiry.
These very competent humans (unfortunately only English) could help me after some back and forth:
Successively I should switch on and see the individual Sync kinds, when the error arises.
The crucial dialogue box is down shown.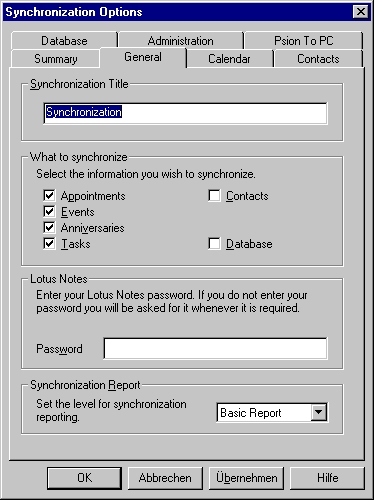 With the further tests, it turned out that there was a problem with the tasks (tasks).
Since these are not so important for me, I excluded these from the Syncronisation.
Later I then also determined, which very many crossed out events very probably disturbed the Syncronisation.

on top



Copyrights © 2001-2022 by psion.GENSICKE-ONLINE.de
I detect all copyrights and registered trade marks specified here on!